Angel Urns
---
Angel Urn and Keepsake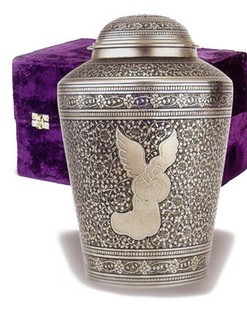 Description
The Angel Urns and Keepsakes are crafted from high quality brass, painted with a gleaming silver finish. A swirling pattern of flowers and vines surrounds a praying angel.

Size
Full Size Urn - Measures 10 1/2" high; 218 cubic inches.


Opening
Top loading.

$210


---
---
Angel's Presence Adult Urn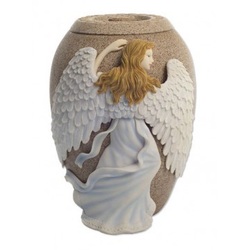 Description
The Angel's Presence Urn is created from from high quality, cold-cast polystone, which has the look and weight of real stone. An engraved nameplate is also available, with up to three lines of text, which is placed on the bottom of the urn. Four, clear rubber feet are included for tabletop protection.

Size
Measures 10 1/2" x 7 1/2" x 9"; 220 cubic inches.

Opening
Bottom loading, turn-and-lock closure.

$299

---
---
Guardian Angel Winged Keepsakes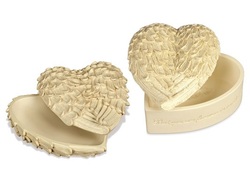 These two pieces are sweet memorial items. The Guardian Wing or Wings of Angels Keepsakes are a creamy ivory hue with a dusting of glitter.

Guardian Wing Keepsake measures 4 1/2", 7 cubic inches.
Wings wrap around the entire heart.

Wings of Angels measures 4 1/2", 9 cubic inches.
Wings stretch across the top of the heart. Reads "God sends His love and blessings . . . With wings of Angels . . ."



A single feather rests inside.
$55

---
---
Guardian Cherub Urn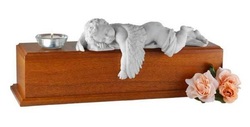 Description
The Guardian Cherub Urn is handmade of fine maple wood and sealed with quality, catalyzed lacquer for ideal presentation. A beautiful sculptured cherub and clear candleholder adorn on top. A small candle is included as well as a fully engraved nameplate.
Size
Measures 19" x 6" x 7 1/5"; 340 cubic inches.
Opening
Bottom loading.
$320

---
---
Heavenly Guardian Infant Cream Marble Urn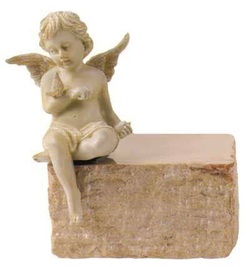 The Heavenly Guardian Infant CreamMarble Urn, is a lovely marble urn with an alabaster Guardian Cherub sitting on top. A name plate can be added. This urn is bottom loading, is 17 cubic inches and measures 5 1/2" x 5" x 3". This urn can also be used as a keepsake. $199

---
---
My Girl Angel Urn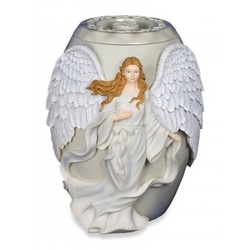 Description
The My Girl Angel Urn is a sweet, fairy-tale piece. They are created from high quality polystone and hand painted to perfection. This piece has the weight and feel of genuine marble. An engraved nameplate is also available, with up to three lines of text, which is placed on the bottom of the urn. Rubber feet are included that provide tabletop protection.

Size
Measures 10 1/2" x 8 1/2" x 9 1/4"; 220 cubic inches.

Opening
Bottom loading, turn-and-lock closure.
$310

---
---
Peaceful Angel Oak Urn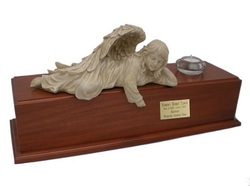 Description
The Peaceful Angel Oak Urn is handmade of the finest Oak with a sculptured angel and glass tealight candle holder. An ideal presentation piece. A free, brushed brass nameplate is included.

Size
Measures19" x 6" x 7 1/5", 290 cubic inches.

Opening
Bottom loading.
$269


---
---
Serene Angel Urn Series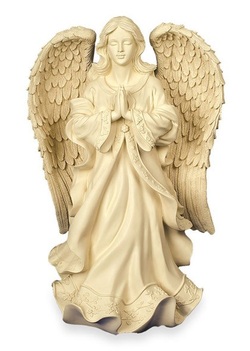 Description
The Serene Angel Urn Series is a collection of elegant, ivory hued angel sculptures. A light dusting of glitter gives them a delightful shine. Each angel is depicted in closed-eyed prayer, with flowing robes and feathered wings. Durable materials provide for indoor or outdoor presentation.
Available in four sizes:
Companion Urn measures 24" x 14"; 430 cubic inches.
Large Urn measures 18" x 10"; 173 cubic inches.
Medium Urn measures 12" x 8"; 21 cubic inches.
Small Urn measures 9 3/4" x 7"; 11 cubic inches.
Opening
Bottom loading.
Contact us for Quote
---
---
Slumbering Angel Urn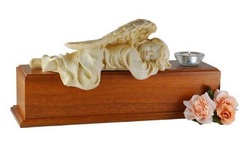 Description
The Slumbering Angel Urn is handmade of fine maple. Sealed with quality, catalyzed lacquer for ideal presentation. A beautiful sculptured angel and clear candleholder adorn on top. A small candle is included as well as a fully engraved nameplate.

Size
Measures 19" x 6" x 7 1/5"; 340 cubic inches.
Opening Bottom loading. $269

---
---
Sweet Flowers Angel Urn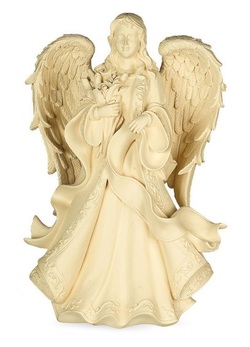 The Sweet Flowers Angel Urn is a delightful creamy ivory with a light sprinkling glitter.

Measures 22" x 14" x 12", 375 cubic inches.

The angel is draped in a flowing gown with outstretched wings, holding a bouquet of flowers.

$275
---
---
Crying Angels Cremation Urns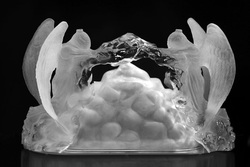 Our Crying Angels Cremation Urn is an an incredibly realistic depiction of the Weeping Angel Monument found among various cemeteries world wide. This Urn's detail and presentation are outstanding. The Weeping Angels kneal over a bed of pillow clouds mourning the loss of a loved one's presence.

These exquisite Weeping Angels are made of clear and frosted Lucite. An elegant choice for home display.



Your clients have the choice of a White or Powder Blue Satin Bag to hold their loved one's cremains within the urn. With the White Satin Bag, the urn will appear exactly as pictured above. Choosing the Powder Blue Satin Bag will give the clouds a blue hue.

Please indicate your clients' preference(s) of bag color in the Order Instructions above.

This beautiful urn measures 15" across by 10" tall by 9" deep, and is filled through a discreet bottom opening. It's capacity is 200 cubic inches.

This is a limited urn series, made in the USA.

Orders usually ship same day. $1500


---
---
Angel Crying on Rock Cremation Urn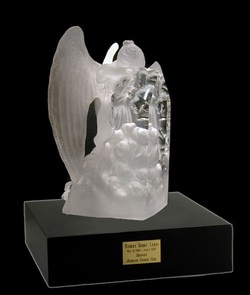 Our Angel Crying on Rock Cremation Urn is an incredibly realistic depiction of the Weeping Angel Monument found among various cemeteries world wide. This Art Urn's detail and presentation are outstanding. The Weeping Angel kneals on a bed of pillow clouds mourning the loss of a loved one's presence.

The exquisite Weeping Angel is made of clear and frosted Lucite. An elegant choice for home display.

This urn is suitable as a Companion Urn or Large Adult Urn. The urn's black wood base measures 9 1/2" x 14" x 9 1/2" and holds up to 320 cubic inches. This urn is handmade from Poplar wood and is filled through a bottom opening.

A fully engraved name plate is included. Please indicate Engraving requirements in the Order Instructions above.

This is a limited urn series, made in the USA.

Orders usually ship same day. $910


---
---
Weeping Angel™ Old World Gothic Bronze Urn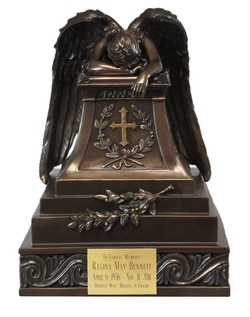 The Weeping Angel™ Old World Gothic Bronze Urn is an incredible depiction of the Weeping Angel Monument sculpture made in 1894 by William Wetmore Story for his wife Evelyn. His beautiful monument was placed in the Protestant Cemetery, in Rome. The detail of of our urn is outstanding, on each side of the monument has a wreathed cross, where the weeping angel is mourning. Her lovely arms, body and wings are so detailed, it seems this urn was created with love. Decorative swirls of water or wind guide the loved one to heaven. A true work of art, museum quality, this is a cold cast urn with a bronze poured Flemish finish, amazing detail. While gothic today is considered fashion, in the past Gothic Architecture was a very real thing and this urn is reminiscent of the Gothic style.

This bottom loading urn is 220 cubic inches, large enough for any adult. It measures 12 3/4" tall by 10 1/2" across by 12 1/2" deep. This urn's details are truly amazing, weights 6lbs and is an elegant choice for home display.

A free 3" x 2" brass engraved name plate is included with the urn, which can be placed on the front or the back. Here is an example of what we can engrave:



In Loving Memory
Nathan D. McLester
March 3, 1949 - July 29, 2012
Beloved Husband, Father & Grandfather

$299
---
---
Wings of an Angel Child Urn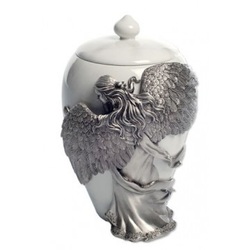 Description
Our Wings of an Angel Infant Urn displays an angel of protection, with wings outstretched. This peaceful angel is made of pewter and the urn is created from high quality cold cast poly stone, which provides the look and weight of real marble. An engraved nameplate is also available which can accommodate up to three lines of text. Four, clear rubber feet provide tabletop protection.

Size
Measures 8 1/2" x 6" x 6 3/4"; 55 cubic inches.

Opening
Top loading.



$260

---